North East 2007
Eaglenest, Sangti Valley, Sela and Nameri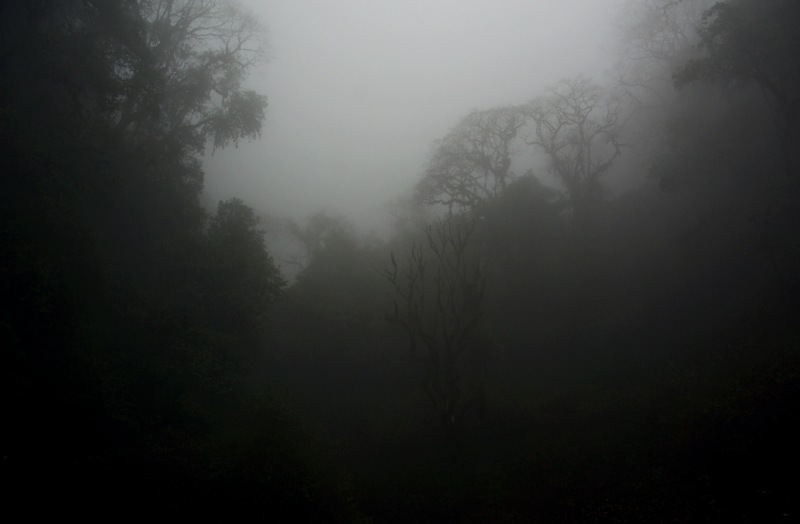 Light tries to make its way through the thick ceiling of mist. It's an eerie shade of green everywhere with the sweet smell of moisture. The moss and lichen on the branches of trees, several hundred feet tall, portray a picture of forgotten tranquillity. It is an old forest, untouched by the keening winds of change, it has remained that way, seemingly forever. Strange creatures live in this place, many not described by science yet and many more not even seen by man perhaps. A road was once cut through the jungle, keeping an impending war in mind. Strange then that this road is considered paradise by many who've tread upon it. The wall of seemingly impenetrable vegetation on either side of the road is only broken at strategic places, as if a maze has been cut through a hedge - ancient routes of the pachyderms. Elephants have used these paths for countless generations as they moved on to higher altitudes during the summer in search of food and water. Nature's own musicians are at work in the hours of daylight. They whistle, whine, cry, chatter and squeal. Surely a cacophony? No, its a grand musical ensemble of the finest quality. Every time I've heard of Arunachal Pradesh, my mind painted a picture of a land that is beautiful, mysterious, with trees and spectacular birds. And when I finally had the chance to be there, I was standing there in awe. My poor mind had failed miserably in its illustrations, for the place was beyond my wildest imaginations.
Day 1. 17th March 2007 (To Guwahati)
Vijay and I landed at Guwahati airport at quarter past twelve. Sujan was waiting there with Mike, who had arrived about an hour earlier. We waited for Richard to arrive from Delhi and at half past one, our luggage was hoisted on to the roof of the waiting SUV and we were on our way towards Arunachal Pradesh. There was a general strike in one of the districts in Assam that day and that meant the road to Arunachal was blocked off. Fortunately, alternate arrangements had been made for us to spend the night at the Nameri jungle camp in Assam.

On the way to Nameri we arrived at a small town where we were stopped by the police. The strike was apparently most intense in the next twenty-six kilometers and we had to take a police escort. While we parked and waited for the escort, other cars queued up along the highway. The town wore a deserted look. Surely, people take their strikes seriously in these parts. An hour later, we were tailgating a police vehicle with armed guards and the distance was covered without any incidents of note, but there were a few anxious souls in the car.

We arrived at Nameri hours after sunset. Tiredness had set in and we hit the dinner table. And as its usually the case with birders around, the topic of discussion during the dinner was, of course, birds!

Days 2 & 3. 18-19th March 2007 (Sessni)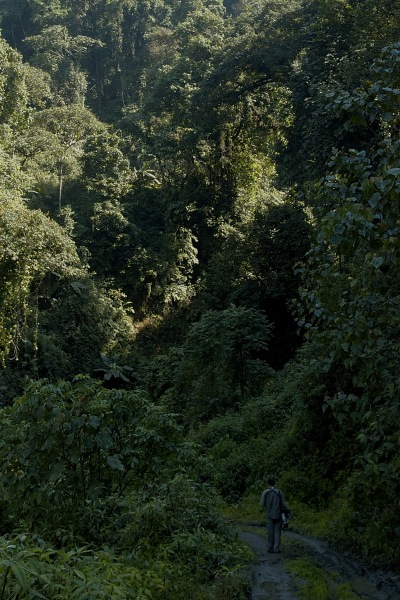 At four thirty in the morning we were all set to head out to Arunachal Pradesh. The drive from Nameri towards Arunachal was more like riding a horse than sitting in a car. Apart from a forward and backward sway because of never-ending natural road humps, I'm fairly sure we were not going much faster than we'd be doing if we were actually riding a horse. The hours before sunlight were spent on the roads of rural Assam and by dawn, we had reached the Assam forests bordering Arunachal Pradesh. The Sonai Rupai forest was an endless field of two-foot tree stumps and was rather depressing. However, things got better as we started to see more trees amidst the tree stumps and the amount of birdlife seemed to increase dramatically. Just then we heard a loud thud and saw that Sujan's backpack had fallen out from the roof carriage. In a hurry to leave Nameri, the bag had not been fastened properly and now we had a needless stop. And what do birders do when this happens? They pull out their scopes and binoculars and run around. I, of course, was the odd man out and so I pulled out my camera and went behind the birders to get some photographs instead.

I set up my camera on the tripod waiting for something to happen. And something did happen when someone shouted out "Speckled Wood Pigeon" and I turned around to see a bird against the sunlight in the canopy. Through Mike's scope I got a nice view of the bird before aiming my camera at it and click my first photograph of the trip. Just then, bird activity picked up on a tree behind us. Dark-throated thrush, Blue-eared Barbet, Blue-throated barbet and a bunch of Mynas. Just then someone else shouted "Hornbills" and we looked up to see a pair of Wreathed Hornbills fly by. And then we saw an Asian Barred Owlet on the dry branches of a tree at some distance. The brief stop was rewarding and it was time to leave since the bags had been packed once again. Just as we were winding up, we saw a Black Stork flying at a distance. I don't quite remember a day when I've had five lifers within twenty yards of movement.

Soon, we were driving up the winding roads of Arunachal Pradesh. The narrow road had good forest cover on either side and we reached an old broken bridge which required us to get off the car and we decided that it was time for breakfast. With baked beans and bread in hour hands and cameras and binoculars around our necks, we walked around the bridge looking for birds. The bushes around the car gave us Chestnut-headed Tesia and Silver-eared Mesias. I was standing on the bridge, eating my breakfast with my camera on a tripod in front of me. The stream flowing under the bridge had the usual suspects of the North-east: Plumbeous Water Redstart, White-capped Water Redstart and Blue Whistling Thrush.

It was time to cross the bridge and Sujan helped the driver in navigating across the bridge while the rest of us waited on the other side. With the bridge successfully conquered we were all set to continue towards our campsite for the day. We reached a forest check post and then the tar roads gave way to the mud roads and then we were inside the Eaglenest Wildlife Sanctuary. The temperatures were surprisingly high and the long hours on the road made us roll up the windows and let the car air-conditioner do its work for a while. Virtually cut-off from the sounds outside, we reached our first campsite - Sessni.

The campsite at Sessni originally housed personnel from the Indian Border Roads Organization, a road-building unit of the Indian Army. When the place was declared a wildlife sanctuary, they moved out and with them took the the doors, windows and the steel girders but left the cement walls that stand there today. Tents were pitched for us next to these walls where we were to spend the next two days. After a hot cup of tea, we headed up the road looking for some birds. Yellow-bellied Fantail, Long-tailed Sibia, Rusty-fronted Barwing, Striated Laughingthrushes, Grey-cheeked Warblers and Golden Babblers were some of the birds we came across before we headed back for lunch at the campsite. Just before lunch, we were treated for some awesome raptor flybys which inlcude Rufous-bellied Hawk-Eagle, Northern Goshawk, Mountain Hawk-Eagle and a Black Eagle, and strangely all seemed to fly around in the same area!

Post lunch, we went up to a stream called "Hati Nala" (or Elephant Stream) and while the rest of the group decided to walk downwards to the campsite, I headed upwards with the car. A couple of bends later we flushed out a snipe, which I presume was a Wood Snipe. I got out of the car and walked ahead with my camera hoping to see the bird again, but after several minutes, I just gave up on it and walked on. I managed to see some more of the birds I had seen in the afternoon walk, but this time I managed to get some photographs of them as well. With light fading fast, I decided to head back to camp where preparations were on for a sumptuous dinner. It was quite amazing what the logistics team had managed to come up with in the middle of no-where.

Early on the following morning, we headed out to a stream close to the campsite in search of Wren-babblers. While the search for the Wren-babblers went on, I kept my camera busy trying to shoot some other birds in a large mixed hunting party nearby. Mixed hunting parties are tricky to have around especially when you want to photograph them. You either choose a place or a bird and the choices are difficult to make since you'd want to shoot as many of them. And that dilemma usually leaves you with almost no photographs sometimes as I found out! Of the ten-odd species of birds in that pack, I managed one shot - a Golden Babbler. Meanwhile, our packed breakfast arrived and I went to meet the others who were extremely happy to have seen a Wedge-billed Wren-babbler and a Long-billed Wren-babbler. The day had gotten off to a great start indeed.

I decided to walk around the campsite while the others went further downwards. Around the campsite, I found an abundance of Striated Bulbuls, Hill Prinias and the very shy Brownish-flanked Bush Warbler which just refused to show itself. After lunch, we went down to the forest check post of the Khellong Wildlife Sanctuary. We just saw a female Khaleej pheasant flyby during that drive and nothing much. At the gate, we again split up because I found a wonderful Coral tree in full bloom and wanted to wait there for the birds. My gamble paid off when I managed to get photographs of birds I'd been wanting to get for so long: Long-tailed Sibia, Blue-throated Barbet, Great Barbet, Blue-winged Minla, Orange-bellied Leafbird, Streaked Spiderhunter and Black Bulbul. While I was busy shooting, I heard a bunch of White-crested Laughingthrushes trying to make their way downhill. I saw one cross the road and knew the others would follow and after waiting for several minutes for the others to come by, I realized that the bird I saw was the last one of the flock! The day was now ending and he boarded the car to get back to camp. While driving back, we saw a male Khaleej Pheasant at the same place where we had seen the female flyby. Just then, my eyes caught a colorful bird on a tree close to the road. Red-headed Trogon! The car stopped and through the windows, there was a burst of clicks from our cameras before the bird decided to move on and disappear from our sight.

Days 4, 5 & 6. 20th-22nd March 2007 (Bompu)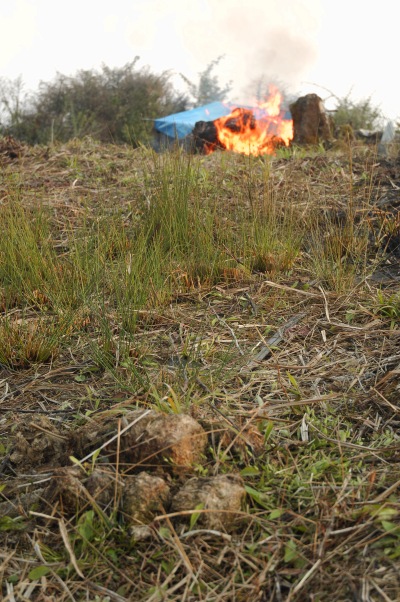 We were shifting camp on the morning of the 20th and after a quick breakfast we moved on to the Bompu campsite. And like always, we got off from the car to walk for a couple of kilometers. And as we walked we had the usual suspects in that part of the forest, the only new bird on the list being a Common Green Magpie. We came across a slushy patch on the road and there was, what seemed like, a couple of centimeters of water over the muddy ground. Around midway through that small patch, I put my right leg on a marshy stretch and in went my leg through the slush - well past the ankle. I had successfully stepped into a large footprint of an elephant, which was hidden by the water and grass. Anyway, we walked along and then we heard something like a small plane overhead. Looking up, we saw a pair of Rufous-necked Hornbills gliding, with their wings making that buzzing noise as they sailed past us. It was thrilling to see them fly so close by and I realized that I had the habit of not keeping the camera with me when something interesting happens. Just after that, I sensed a little movement below my right ankle and looking closely, I noticed a leech! I was told that there aren't too many leeches out there, but I had managed to pick one up, most likely when I took part int that adventure of walking through the slush.

Bompu means Bamboo and that's how the campsite got its name for there was lots of Bamboo everywhere around the campsite. We arrived there an hour or so before lunch and by now it had gotten real hot and a quick walk around the campsite showed that this place was a major elephant highway. Fresh footprints and dung the major giveaways. The team had made us wonderful lunch once again and we walked downwards from Bompu towards Sessni. It was rather hot in the day and we could not see any birds of note till we reached a patch of forest which was in the shade. We heard a call, which sounded like a melancholic wail - a male Blyth's Tragopan. Unfortunately though, the bird was moving in a direction going away from us and the chances of catching it were slim. Sujan looked up at the skies and said the feathery clouds meant that a cyclone was approaching and there could be rain in a couple of days. Bad news that since we'd just not be able to see or photograph birds if it rained, but it was rain forests we were in and rain is what we should expect. Just then, the car arrived with our tour logistics manager, Shishir, bringing us news from the campsite.

Six elephants had a paid a visit to our camp and they were apparently still there, feeding on the bamboo. Sujan and I went back with the car to see the elephants. About thirty feet from the campsite, there was an old female elephant plucking bamboo. She was so well camouflaged that I would not have seen it if not for the sound it was making. There were four or five more around, who were all feeding on the bamboo, but we could not see them. It was already four in the afternoon and though not entirely convinced we just decided to spend the day there. With the elephants.

I felt a little uncomfortable sleeping in the tents with elephants around and I decided to sleep in the car for the night. Somehow, I was sure that the elephants would be back at the campsite that night to raid the kitchen for the vegetables. The night was cold and I woke up several times and each time I looked around the camp to see if we had any visitors. Soon it was time for the sun to come up and I was wrong about the elephants deciding to come and raid our food supplies. And I'm glad I was wrong! The day started bright and the birds were all there with their glorious morning feeding frenzy. As usual, our packed breakfast arrived and we moved on from place to place. The blue skies were gradually turning grey and the mist was beginning to set in. The day was exciting as we did get some fantastic birds, but the light was now all but gone and I put my camera back into my backpack. Then it rained.

That night, while sleeping in the tent, I was woken up in the middle of the night to that dreaded noise. Thunder. It was raining intensely outside and I looked up at my watch to see that it was three in the morning. Two hours later, we were up and we got out of the tent to see thick cloud cover all around. The rains had stopped, but the ground was wet and there was the wonderful smell of rain all around. That morning we were to drive to another campsite called Sunderview and bird around that area. We headed out from Bompu in our car and just a few hundred yards from the campsite, after a bend, we saw a bulky body moving towards us rapidly along the road. Elephant charge! With her trunk held up sniffing the air and ears flapping the matriarch was running down on us. The driver quickly reversed and the elephant stopped in her tracks. It was a mock charge. She stared at us for a while, then slowly turned around and walked back. She then went around a bend and disappeared from our sight. We waited for a few minutes and then started cautiously. The elephant and her herd were no where to be seem and they had probably taken one of their paths up the hill.

Approaching Sunderview, the visibility reduced to nearly zero as we hit the thickest mist I had ever seen. We reached Sunderview after a slow drive and had our breakfast while waiting for the mist to clear. It did not look like it was going to clear, but the others went on and I wandered around the Sunderview campsite. Thankfully, a flock (mischief?) of Yellow-billed Blue Magpies landed around and I went after them to try and get some photographs. After the magpies had gone, there was some loud pecking and I managed to see a small Crimson-breasted Woodpecker. Walking downwards towards the campsite, I decided to park at a flowering tree and was able to see and photograph a lot of Stripe-throated Yuhinas, Rufous-vented Yuhinas and Green-tailed Sunbirds. However, the Fire-breasted Flowerpecker proved to be elusive and though I saw it several times, I could not manage to get a single snap of that beautiful little bird. The mist had now gotten more intense and there was a distant sound of thunder and then it started to pour once again. I packed up my camera and we drove back to the camp in the wonderful rain.

It drizzled all evening and during the night. Sometime in the middle of the dark night, I was woken up again to another dreaded sound. This time it was the elephants! They were there, in the bamboo forest just around the campsite, having their late night dinner party. I don't know how many there were, but they seemed to be feeding calmly. Strangely I managed to sleep, but I again woke up close to the morning to the same sounds. It was almost time to wake up and I went outside to see if I could spot them. They were there, somewhere, the sounds seemed to be coming from rather close-by but I just could not see them. They probably did see me. The mist was clearing up and now the Himalayan Swiftlets were flying all around the campsite hawking insects. The day looked promising, but after we had our breakfast and shut down camp to move on to the next site, the mist began to set in once again. It drizzled all the way to Lama Camp and the day was completely washed out.

Days 7, 8 & 9. 23rd-25th March 2007 (Lama Camp)
We arrived at Lama Camp on the afternoon of the 23rd. It was foggy and cold and the cottages on stilts looked luxurious after a week in the jungle. Lama Camp hardly looks like a place where a new species of bird was discovered. The patches of forest around a small human settlement seem a little degraded and the vegetation is not as thick as what we had been treated to back inside the Eaglenest Sanctuary. A tiny winter Wren made its appearance and my camera found some action in the dull light. The next morning, we set out to find the Bugun Licocichla - the celebrity of these parts. Hours of playing the tape and eagerly looking at every movement in the bush yielded nothing and we set about walking around to find other birds.

After lunch, just as we were heading out to try our luck to find the bird again, we saw the clouds building up. I decided not to risk the rain with my precious camera gear and headed back to camp. No sooner than I had put my camera back in the cottage, the clouds opened up and it poured on for hours. No photography meant I could peacefully sit in front of the tent with a good book in hand and a hot cup of tea, ocassionally watching the rain - in a rain forest.

On the morning of the 25th, we set out to trek along a newly cut trail called Tragopanda - which took its name by combining Tragopan and Panda (Red Panda) which are apparently sighted often along the trail. The weather did not look promising and I decided to take a small lens and my camera backpack to avoid heartbreak in the event of rain. I was also warned of the steepness of the trail and with the rains I was sure it could be slippery as well. The trail is moderately difficuly and tricky in some places but stunningly beautiful. Lichen and moss made the old trees look even better and the mist was beginning to engulf the forest. The moist leaf litter all along the path helped us walk more quietly than we normally would. It can get quite eerie walking alone in this place, especially during the rains, but the experience is just amazing. I absolutely loved every minute of the walk, though I had to be in my senses and not miss out on a bird or two - for there were plenty. The mammals seemed elusive and I thought which of them could be there. Clouded Leopard, Red Panda, Himalayan Black Bear, Marbled Cat, Gaur, Goral, Serow, Musk Deer, Capped Langur, Tibetan Macaque, Squirrels and Martens came to my mind, but I knew it was highly unlikely I'd see any of them. Just then, I remembered I had missed out on my favorite mammal - Elephant. I looked at the altimeter on my GPS and it told me I was 2500 meters above mean sea level. I began to think that its quite impossible for elephants to be at this height and put the GPS back on my belt when I noticed I was standing on something - Elephant dung! I could just smile at the agility of this animal, which looks like anything but agile, and its resolve to find food. As I climbed higher, I began to notice more elephant dung, and it looked like I was heading into a summer resort for the elephants. I was right, at twenty seven hundred meters, the cloud forest gave way to vast stretches of short bamboo. There were elephant tracks everywhere and lots of dung, most very old - years perhaps. I guess that peak summer would see a fairly large congregation of this wonderful beast there.

The clouds were moving again and the mist which had cleared up for a while began to set in on the mountains. And as we headed back, Mike found a bunch of Brown Parrotbills and then we spotted a Spotted Nutcracker! The descent was tricky at places where trees had fallen on the path. On one such tricky place, a branch caught the tip of my pant and would have had a nasty fall had it not been for another helpful branch close by. That near-fall made me a little more cautious about the environment I was in. After the trek, Vijay left for Bangalore, but the four of us stayed on for another week in that part of the country.

That afternoon, for a change, it did not rain nor was it misty. Strange indeed, I thought. Anyway, yet another trip to find the Bugun Liocichla failed and as the we wandered around looking for it. After a couple of hours of aimless wandering, I parked at a place with my camera waiting for birds to come by. And they did. Bhutan and Chestnut-crowned Laughingthrushs, Grey Bushchats and plenty of the smaller beauties - warblers, sunbirds and all. At dusk, I got back and the others walked in a little later. The evening looked great with the clouds clearing up and giving us a glimpse of the wonderful night sky sprinkled with stars. We thought the next morning would be great for giving one last shot at finding science's newest species of bird.

The morning that looked promising dawned upon us just like most other mornings - misty, cloudy and threatening to rain anytime. So much for the optimism of the previous night! I just packed up my bags and was waiting for us to head out to Dirang. Just then, Rich came running out of the bathroom saying that he had heard a Bugun Liocichla calling. It called again. The others enthusiastically ran along with their binoculars, while I unpacked my camera and set out. Yet again, the bird seemed elusive and all morning we just walked along the road which connects Lama Camp to Tenga. Occasionally, we would have fantastic visibility of about twenty feet, but most of the time the mist was so thick that if my hand was any longer I would not be able to see my fingers. Disappointed and reluctant to proceed we gave up on the Bugun Liocichla and sat in our taxi to head out to our next destination - Dirang.

Days 10, 11 & 12. 26th-28th March 2007 (Dirang)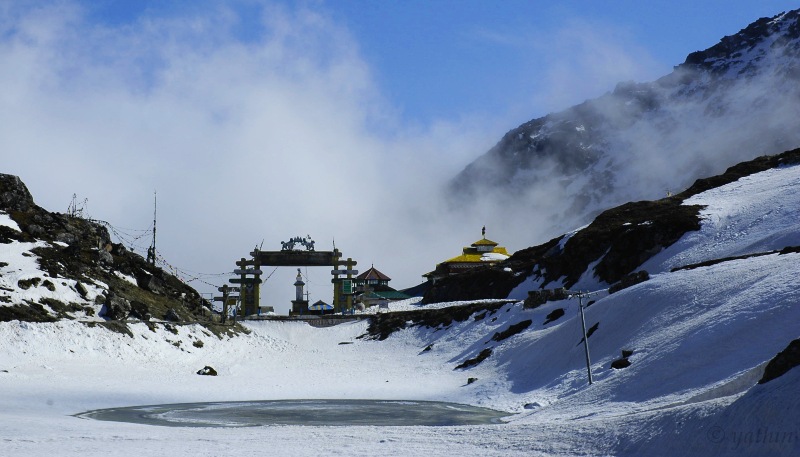 Dirang is a small town on the banks of the Kameng river. It is most popular as the town midway between Guwahati and Tawang. Among the birding circles it is popular because of its proximity to well known birding areas - Sangti Valley, Sela Pass and Manadala road. The grueling five hour drive from Tenga to Dirang took us through an aspect of Arunachal that we had not see so far - civilization. Step cultivation along the mountains, Buddhist prayer flags, army cantonments and metaled roads. We arrived at our hotel a few hours before sunset which meant we had overestimated our calculations and wasted an opportunity to look for the elusive Bugun Liocichla back at Lama Camp.

On the morning of the 11th, we headed out to Sela pass. The weather was just like how it had been for the past week and soon we were at the high mountains. The altimeter read thirteen thousand feet when I noticed a fresh sprinkling of snow on the dark muddy road. There were army trucks moving everywhere and the road looked dangerous - with boulders and rocks, potholes, snow and steep falls on one side. The driver told us that his previous customers turned back at that point since they thought that the road was too dangerous to go any further. The road seemed to be getting worse when the mist began to get thicker and now the car was crawling, with fog lights on and honking at every bend. The air outside was chilly and my layers of thermals were trying their best to keep me warm. Then we saw an arch on the road, "Welcome to Tawang" it read and the altitude was thirteen thousand and seven hundred meters. We parked the car at the lake after the pass and opened our breakfast case. We were starving and it was freezing outside. And then it began to snow. The lake was frozen solid, but there were some birds on its fringes: Snow Pigeons! Then through the misty veil, we heard a Red-billed Chough but then the snow got heavier and now it began to get a little windy as well. The altitude meant walking was tough, more so with heavy camera gear. Just then a huge flock of birds started moving around in the air and the visibility meant it was impossible to identify them correctly, but we presumed they were female Grandalas. A couple of hours later, the mist cleared up and presented us with a fantastic view of the Himalayan mountains with blue skies in the background, and bare mountains and some snow-capped peaks in the distance. There was a beautiful mountain stream along the road and beyond it were conifers. And then, from behind a rock emerged a woolly bovine - a Yak! They seemed rather peaceful and even ran away after seeing us walking along the road. The walk was rewarding and we saw a lot more of the high altitude birds.

At noon we arrived at a place called Jaswantgarh where the Indian army runs a small hotel. We sat there to have our packed lunch and had some wonderful hot tea which seemed so perfect for the weather. During the drive back, we were able to see the landscape between Sela pass and Dirang which we had missed out to the early morning fog. And somewhere along the way, we stopped for a cup of coffee and came upon an interesting patch of forest below a bend where lots of birds seemed to be calling. I managed to get a snap of a White-browed Rosefinch pair and another Yak before the light went out.

The next day, we were supposed to go out to bird along the Manadala road. However, I woke up with a bad headache and decided not to go birding and take some rest instead. It was probably because of walking around the Sela pass the previous day. And then out of curiosity I opened the window to see a rare scene - blue sky without a speck of cloud. Bad luck with the weather again for me.

That afternoon, we went to the Sangti valley to look for the Black-tailed Crake. We walked along the river trying to look for birds. I put my tripod and lens at a place which looked interesting and scanned the area for birds. I stood there for a good fifteen minutes till Mike and Rich came to where I was standing and asked if I found something. Just as I was about to reply "Nothing" a bird bolted from just in front of me - an Ibisbill! It's one of the birds which most birders are after in that area and I was standing right in front of it for fifteen minutes without even noticing it. It flew for a few hundred yards upstream and settled down amongst the boulders. I ran up with my camera on my shoulder and came to the place where I had seen it land, but could not locate it. I saw some movement and my eyes caught the bird, but just before I could click it flew again. I ran along the river and then saw it the distance and I then moved from behind a clump of trees and from there I managed to get a few shots of this beautiful looking bird. I wanted to move closer to get better shots and as I moved in, it saw me. It stayed put, thankfully. I put my tripod down and mounted my camera and one click and it was off! Downstream this time. I looked at the images I had and satisfied with it and I was in no mood to trouble this bird anymore. I packed my camera gear for the day. The shooting for Arunachal was over I thought, for the next day we would be going to Nameri in Assam.

The next morning, we set out early. The plan was to head out to Tenga and then go to Lama camp and spend a few hours there and hopefully catch the Bugun Liocichla. The shooting for Arunachal was not over yet. Along the way, we found a few fork-tailed Swifts and then a Wallcreeper showed up, but we resisted to temptation to stay on the road and headed towards Lama Camp. We arrived there in fantastic weather and started walking around looking for the bird. After a few hours and well past noon, there was a tired look on our faces. It looked like most of us were resigned to the fact that we wouldn't see the bird. Mike said that he would try one last time and walked a few steps away from the taxi and he heard the bird calling! Rich and Sujan jumped out and ran towards him and I began unpacking my camera. With the camera in my hand I began walking toward them when they asked me to stop. I could hear the the calls coming somewhere between us. Just then a bird popped up in front of me out in the open. It was green and black and had a brilliant red tip to its tail and it dived back right into the undergrowth within a fraction of the second before I could even think of moving my camera. It was the Bugun Liocichla! What a sight. Sujan, Mike and Rich had still not seen the bird and were rather disappointed as they had missed out again. Just then, Rich said, "There it is." And his binoculars were pointing to a tree a little upwards from where we were standing. And there it was, in a clump of branches - looking at us. A few clicks and the bird was captured. A total team effort indeed.


Days 13 & 14. 29th-30th March 2007 (Nameri)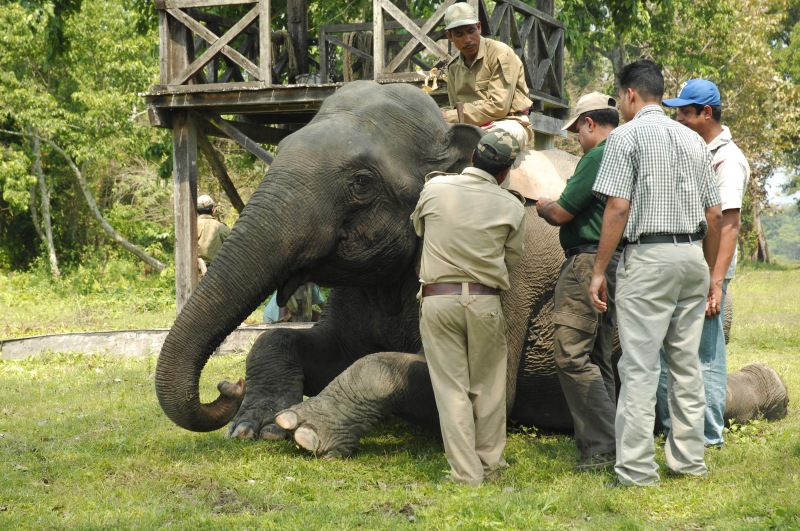 We reached Nameri at four in the afternoon and the mountains of Arunachal Pradesh had now given way to the plains of Assam. The next morning, we set out in our quest to see the White-winged Wood duck. We arrived at the Jiya Bhoreli river and we had to take a boat to cross over to the jungle. Just before getting in to the boat, we saw a flock of pigeons fly from the opposite bank to our side and as we were trying to identify the pigeon species, out flew a Peregrine falcon from our side of the bank. The falcon's attempt to hunt was unsuccessful, so it flew back to its original perch. Then we got on to the boat, with my camera safely packed in my backpack and just when we had left the shore, another flock of pigeons made their appearance. Another try from the falcon and another miss. Then came the third flock. The Peregrine missed again, but one of them was extremely lucky to have missed the hit by what looked like centimeters! After we got off the boat, we saw another flock come by. The peregrine did not even make an attempt this time. It was probably a little too tired from the three failed attempts in quick succession. We knew the Peregrine was hungry because it seemed desperate to catch and it would try again. And soon. As we walked the on the sandy beach, with the cameras still in the backpack, another large flock of showed up. We knew the falcon would come and just as we guessed, off came the peregrine from its perch. The pigeons started moving apart as the Peregrine surged towards the flock. It then flew upwards and then with a swift turn, as if it had zeroed in on its target, dived. Within seconds, it was very close to a pigeon, but the pigeon saw it coming and turned and twisted, but somehow the talons made contact and the pigeon started falling down. The falcon swooped and picked it up cleanly just inches away from the water and went away to its perch. There were claps and cheers. An unbelievable start to the day.

We then headed towards a small marsh where the wood ducks are often seen. To get to that place, we have to walk for about a kilometer along the river and then take a small path through the forest. We got to the marsh as quietly as possible but there were no wood ducks. By now the it was getting rather hot and we walked along the path once again to look for other birds. It proved to be quite fruitful, for we got several birds and many more lifers for me. Top on the list of lifers on that walk for me included the beautiful Sultan Tit. While the others decided to head out to the forest, I decided to walk along the river to the anti-poaching camp a little distance away. I was somewhere midway from where I had left the guys and the forest guest house, when the bird activity made me stop and point my lens towards some trees close to the bank. As I waited for the birds to show up once again, I scanned the area to see if I could see anything. Just then, through the corner of my eye, I noticed a splash of dark grey on the forest path. And it was moving towards me. Elephant! In the Indian forests, elephants can be dangerous, more so in Assam. I was in two minds - to run away or to run away with the camera and the tripod. Thankfully, I did not have to take either of my choices, for a second later, I noticed a man walking alongside the elephant - its mahout. Apparently, there was was medical camp happening and all elephants of the forest department were going to get their regular dose of medicine. Soon, the camp was teeming with elephants, there were twelve of them - tuskers, makhnas, females and calves.

That afternoon, we decided to do some rafting in the river. Our car took us a few kilometers upstream and soon we were on a small raft navigating through the quick and sometimes choppy waters of the river. It's a fantastic experience. Thinking of it, I had never done rafting before and I'm sure that was not the last. Along the river, we scanned the boulders and sandy beaches for birds, Ibisbills if any. Not too much luck with the Ibisbill, but we did manage to get a few raptors - Pallas' Fish Eagle, Changeable Hawk Eagle, an Osprey and a huge group of raptors - Buteos probably, but they were way too high up in the sky to get a conclusive identity. We got down at the same place as in the morning and went to the marsh again in the hope to see the wood duck. We waited around there for quite some time, but luck was not with us. However, I did manage to catch a glimpse of another lifer for me. Believe it or not - a White-rumped Shama! It's crazy to think that this bird is fairly common in most of the forests that I go to so often and I had still not seen it. Anyway, that guy was taking a nice cold bath in a puddle next to the marsh and did not seem too happy with our presence. It was beginning to get dark and the forest guard wanted us to move back to the boat before it got any darker. And so we did. As I walked along the sandy beach of the Jiya Bhorelli river, there was one last awesome event - close to fifty Wreathed Hornbills doing a flyby across the river in the distance. It sure was an unforgettable end to a wonderful journey in India's North-East.


Day 15. 31st March 2007 (Back to Bangalore)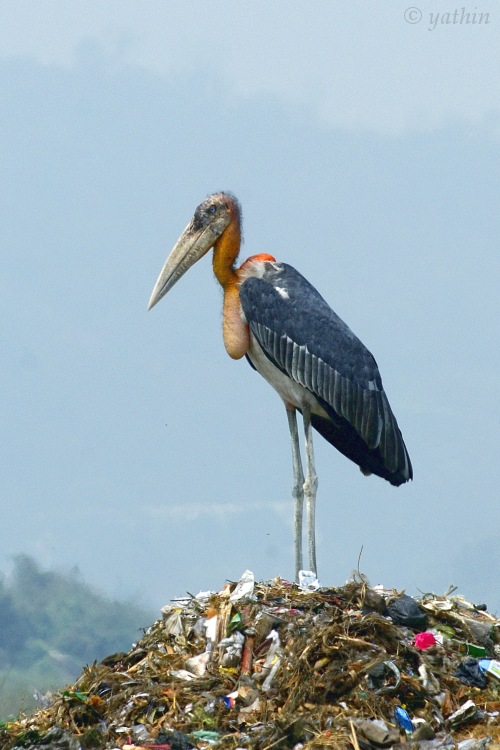 There aren't many known places in the world to see this bird. Apparently, it was once very common but now down to a few hundred individuals. Guwahati, the capital of the North-Eastern state of Assam has one of the best known places to see this mysterious bird - its garbage dump. The fish market at Ulbari is that place. We were on our way to the Guwahati airport contemplating on a stop at the market to see this bird, but it looked like time was not on our side. So, we just decided to go on and scan the skies along the highway and if we were lucky, we'd catch a glimpse of the bird soaring.

Just as we entered Guwahati, the driver calmly told us to look at a large bird flying around and see if that was what we were looking for. He was right! We got out of the car and saw that there were many more and they seemed to be landing at a site a little off the highway. We decided to try and go for it and a little while later, we were on a muddy road with tons of garbage on either side. A little later we came across a group of Great Adjutants on a mound of garbage. As soon as we opened the doors, we were swarmed by flies and the smell of the place was revolting. The rolled-up windows had saved us from the filth for so long, but not anymore. For a moment, the place and the smell was forgotten for less than twenty feet away from us were a dozen of these five-foot storks. These were the largest wild birds I'd seen and to see them from that close was just fantastic. With the midday sun and haze and a sprinkling of cloud cover, it meant that we had ever-changing light conditions. It was tricky, but the camera did its job with a burst of photographs but the clock was ticking faster than ever and we had to leave... to get back to the reality of life in Bangalore.